Sodium sulfate phase III
From Saltwiki
Author: Amelie Stahlbuhk
back to Sulfate
Sodium sulfate phase III
Mineralogical name
Chemical name
sodium sulfate phase III
Trivial name
Chemical formula
Na2SO4
Other forms
Na2SO4•10H2O (Mirabilite)
Na2SO4•7H2O (Sodium sulfate heptahydrate)
Crystal system
Crystal structure
Deliquescence humidity 20°C
82.9 %
Solubility (g/l) at 20°C
4.428 mol/kg
Density (g/cm³)
Molar volume
Molar weight
142.04 g/mol
Transparency
Cleavage
Crystal habit
Twinning
Phase transition
Chemical behavior
Comments
Crystal Optics
Refractive Indices
Birefringence
Optical Orientation
Pleochroism
Dispersion
Used Literature
[Steiger.etal:2008]Title: Crystallization of sodium sulfate phases in porous materials: The phase diagram Na2SO4–H2O and the generation of stress
Author: Steiger, Michael; Asmussen, Sönke

Abstract
Sodium sulfate phase III as a metastable and anhydrous phase of sodium sulfate and its properties are presented.
Occurence
The phase was observed next to thenardite during the evaporation of sodium sulfate solutions above 32.4 °C which is above the transition temperature of mirabilite to thenardite. The amount of metastable phase III increases with increasing temperature [Amirthalingam.etal:1977]Title: Topotaxic phase change in Na2SO4
Author: Amirthalingam V., Karkhanavala M. D., Rao U. R. K.

, [Grossi.etal:1997]Title: Acoustic emmission monitoring to study sodium sulphate crystallization in monumental porous carbonate stones
Author: Grossi, C.M.; Esbert, R.M.; Suarez del Rio, L.M.; Montoto, M.; Laurenzi-Tabasso, M.

.
In addition the phase was detected during evaporation tests with sodium sulfate solutions at room temperature and low relative humidity [Linnow.etal:2006]Title: Investigation of Sodium Sulfate Phase Transitions in a Porous Material Using Humidity- and Temperature-Controlled X-ray Diffraction
Author: Linnow, Kirsten; Zeunert, Anke; Steiger, Michael

, [Xu.etal:1999]Title: In-situ Raman observations of phase transformation of Na2SO4 during the hydration/dehydration cycles on single levitated microparticle.
Author: Xu B., Schweiger G.

, [Rodriguez-Navarro.etal:1999]Title: How does sodium sulphate crystallize?
Author: Rodriguez-Navarro, Carlos; Doehne, Eric

.
Solubility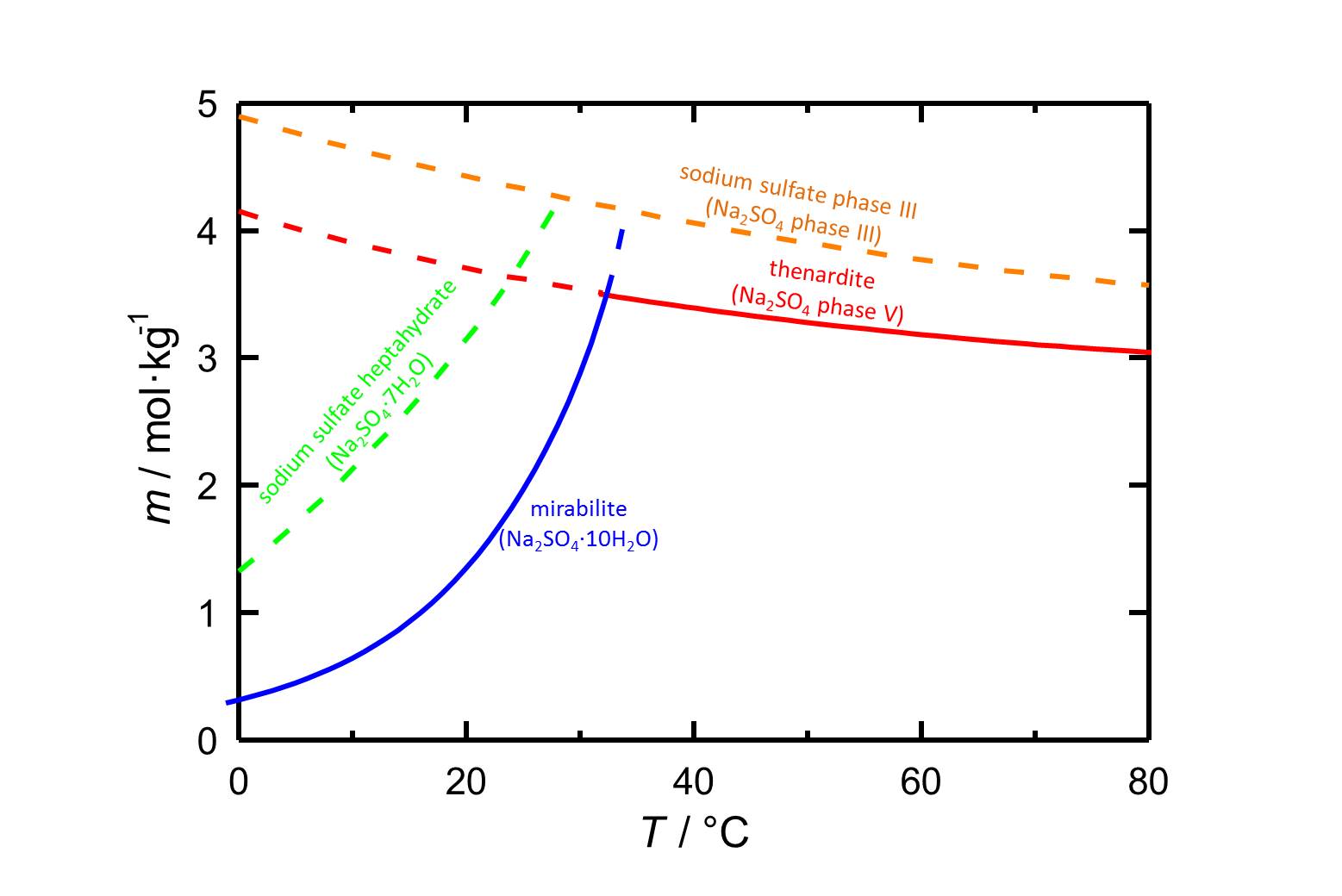 With a solubility of 4.4 mol/kg at 20 °C [Steiger.etal:2008]Title: Crystallization of sodium sulfate phases in porous materials: The phase diagram Na2SO4–H2O and the generation of stress
Author: Steiger, Michael; Asmussen, Sönke

phase III has got a higher solubility than the other phases of the system Na2SO4-H2O (see also sodium sulfate).
Hygroscopicity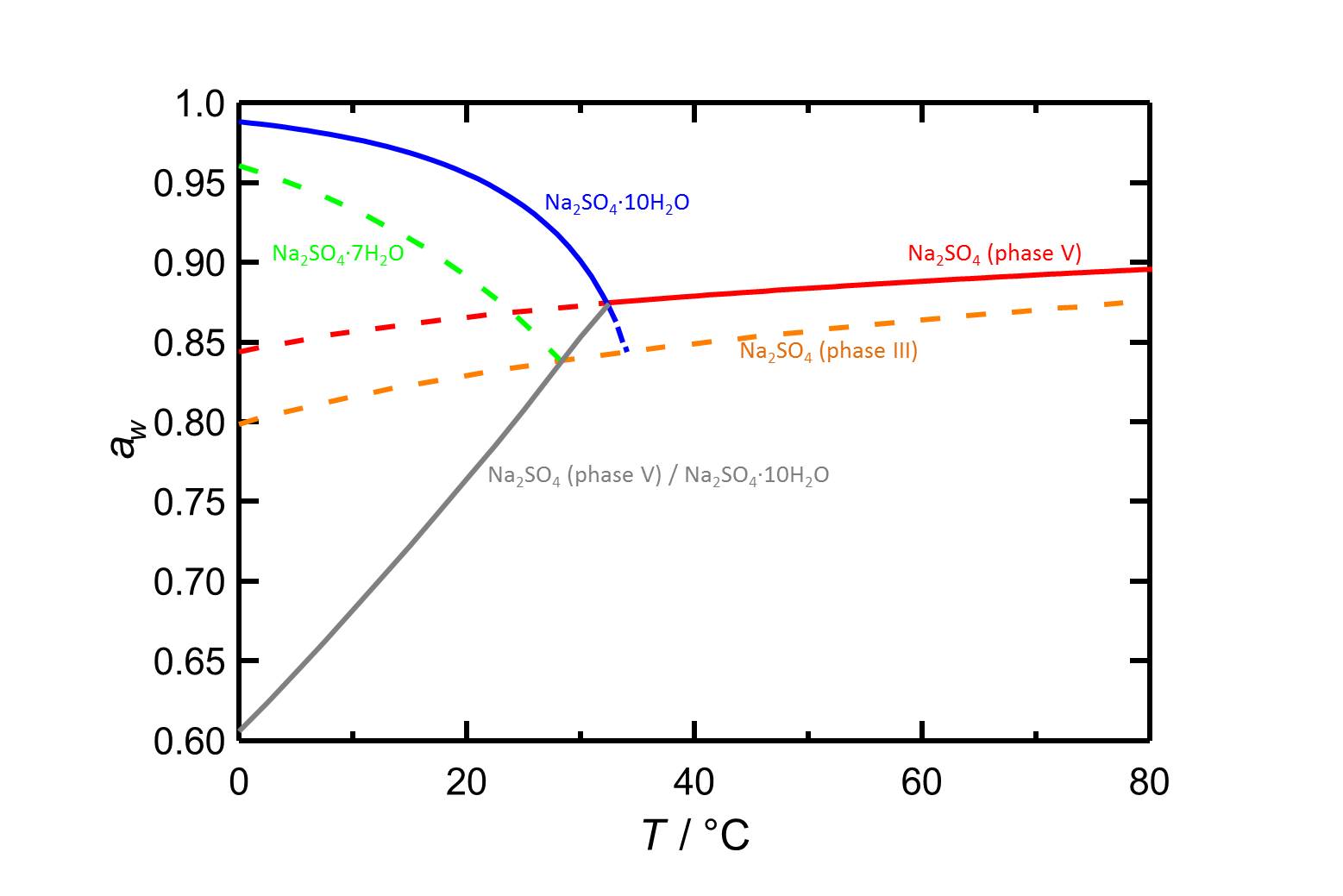 The deliquescence humidity of phase III at 20 °C is 82.9 % and it slowly increases with increasing temperature.
Table 1: Deliquescence humidity of sodium sulfate phase III at different round temperatures, according to [Steiger.etal:2008]Title: Crystallization of sodium sulfate phases in porous materials: The phase diagram Na2SO4–H2O and the generation of stress
Author: Steiger, Michael; Asmussen, Sönke


| | | | | | |
| --- | --- | --- | --- | --- | --- |
| 0°C | 10°C | 20°C | 30°C | 40°C | 50°C |
| 79.9%r.h. | 81.6%r.h. | 82.9%r.h. | 84.0%r.h. | 84.9%r.h. | 85.7%r.h. |
Weblinks

Literatur
| | | |
| --- | --- | --- |
| [Amirthalingam.etal:1977] | Amirthalingam V., Karkhanavala M. D., Rao U. R. K. (1977): Topotaxic phase change in Na2SO4. Acta Cryst., (), 522 | |
| [Grossi.etal:1997] | Grossi, C.M.; Esbert, R.M.; Suarez del Rio, L.M.; Montoto, M.; Laurenzi-Tabasso, M. (1997): Acoustic emmission monitoring to study sodium sulphate crystallization in monumental porous carbonate stones. Studies in Conservation, (2), 115-125 | |
| [Linnow.etal:2006] | Linnow, Kirsten; Zeunert, Anke; Steiger, Michael (2006): Investigation of Sodium Sulfate Phase Transitions in a Porous Material Using Humidity- and Temperature-Controlled X-ray Diffraction. Analytical Chemistry, 78 (13), 4683-4689, 10.1021/ac0603936 | |
| [Rodriguez-Navarro.etal:1999] | Rodriguez-Navarro, Carlos; Doehne, Eric (2000): How does sodium sulphate crystallize?. Cement and Concrete Research, 30 (), 1527-1534, Url, 10.1016/S0008-8846(00)00381-1 | |
| [Steiger.etal:2008] | Steiger, Michael; Asmussen, Sönke (2008): Crystallization of sodium sulfate phases in porous materials: The phase diagram Na2SO4–H2O and the generation of stress. Geochimica et Cosmochimica Acta, 72 (17), 4291-4306, 10.1016/j.gca.2008.05.053 | |
| [Xu.etal:1999] | Xu B., Schweiger G. (1999): In-situ Raman observations of phase transformation of Na2SO4 during the hydration/dehydration cycles on single levitated microparticle.. J. Aerosol. Sci., (), 379-380 | |